Homegate
Switzerland's largest real estate portal
Switzerland

Digital real estate market

Java, Web
For us, entering nearshoring cooperation was not only about extending our in-house software development capacities but also about gaining access to additional know-how, new ideas and fresh initiatives.
Jens, CTO Homegate AG, Zurich
homegate.ch is Switzerland's leading digital real estate marketplace. With more than 9 million visits and over 184 million page views each month, as well as more than 85,000 properties currently on offer (Net-Metrix Audit 08/2017), Homegate AG is one of the leading Swiss digital companies.
BACKGROUND
Positioned as the Swiss number one real estate marketplace, Homegate was increasingly looking for new ways of how to help individuals find the right property. The commonly known, traditional way of searching properties was to be challenged as it did not reflect the capabilities of new technology developments like artificial intelligence and virtual reality. As gaining access to new knowledge – about machine learning and data engineering in particular – was recognised as a key success factor, Homegate joined engineering forces with InterVenture and tapped the necessary talent pool this way.
AT BELGRADE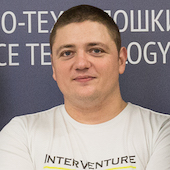 Aleksandar
Engineering Manager and Product Owner
Homegate team is part of InterVenture family since 2016, in beginning we were tackling all the problems that comes with legacy, in addition to building new features. At one point we were given the opportunity of ownership to maintain and future develop 3 real estate websites in Swiss. We are responsible for everything, from server maintenance to SEO. In first 3 months we managed to improve several parts of websites which increase visits to these websites by 67% and continue to increase every month. It's nice to work in the environment where good work is appreciated and trust in engineers comes first.