LOOKING FOR IT
NEARSHORE SOFTWARE DEVELOPMENT & IT NEARSHORING SERVICES?
CONTACT US
With nearshore outsourcing, business activities and processes are relocated to companies in a nearby country.
Would you like to extend your software development team with qualified software engineers in the long-term to accelerate your company growth?
By building client-owned software development teams at our nearshore centre in Belgrade, Serbia, InterVenture offers you a proven and comprehensive nearshoring solution, which enables you to extend your development capacities on a cost-efficient and sustainable basis. Our extensive set of integrated services ensures an overall carefree business flow.
With InterVenture you can have your own dedicated
software development team in Serbia.
Fast. Cost-efficient. Sustainable.
OFFSHORING VS NEARSHORING
What is the difference between 'nearshoring' and 'offshoring'?
Nearshoring Definition
Nearshoring is a form of offshoring and describes transferring work to another country geographically close to your home country to reduce costs and increase work, travel and communication quality.
Offshoring Definition
Offshoring is the relocation of activities to a third-party company in another country to take advantage of lower costs. The geographical location of the countries is irrelevant but offshoring is often associated with farshoring, which is the opposite of nearshoring and refers to outsourcing to distant countries.
Essentially, the reasons why corporations choose to nearshore often overlap, but the most significant difference lies in the geographical location of your partner. Though offshoring is generally more cost-effective than nearshoring, the chances of experiencing difficulties concerning communication and cultural differences are higher.
Various studies show that, for example, German companies increasingly decide to Nearshoring in Eastern Europe countries. For companies located in Europe, the most popular nearshore countries are Serbia, Poland, Czech Republic, Ukraine, Bulgaria and Romania.
NEARSHORING
WHAT ARE THE BENEFITS OF NEARSHORING?
There are several reasons why corporations decide to nearshore some of their segments; but, for the vast majority, the highly qualified employees and a large pool of specialists for lower costs convinced them to take this step.
Main advantages of nearshoring
LOWER PRICES
Nearshoring is a popular way to save your budget, especially for those in the IT industry due to the favourable salary differences and conditions in other countries. A reduction of development costs from 30% by up to 60% compared to the same development quality in your home country can be reached. Besides, customs and duty charges are often lower too.
SPECIALISATION
For a specialised field, such as software development, nearshoring gives you direct access to a large pool of talented professionals and experienced specialists. If you want to partner with professionals who master the knowledge and skills required and pay all the attention and effort to their work, nearshoring is the best option.
FASTER TIME-TO-MARKET AND FLEXIBILITY
Nearshoring offers you the opportunity to be as efficient with your resources as possible. You simply pass the work to an experienced team who strikes a balance between speed and quality, while you can focus more on your core competencies and be competitive.
CULTURAL AND LANGUAGE BARRIERS
Neighbouring countries often have some things in common in their approach to thinking and working. When choosing nearshoring, you'll experience a reduction of cultural discrepancies and language barriers.
Not speaking the same language can easily cause problems, this is a major drawback of offshoring. With nearshoring in Eastern Europe, this issue is brought to a minimum since people often know the language of neighbouring countries and their English proficiency is at a very advanced level. Good communication and language skills are essential for efficient communication.
SIMILAR TIME ZONES
It's much easier to contact your partner when you're in similar time zones since the work hours are similar, this will, in turn, increase the likelihood of receiving responses quicker. When nearshoring, no early mornings or late nights are needed.
DATA AND LEGAL SECURITY
If you decide to nearshore, you'll likely work with countries who have similar laws. In the EU, for instance, the EU all abide by the same data protection legislation. With InterVenture the legal security is based on Swiss law since we are based in Switzerland.
This can't be guaranteed by offshoring to faraway places. Offshoring requires extra strict protocols and safety measures to be implemented. You will need to take additional measures to ensure the safety of, amongst others, equipment to ensure being protected from external forces.
HOW DOES NEARSHORE OUTSOURCING WITH INTERVENTURE WORK?
All-Inclusive nearshore software development
We recruit developers according to the skill requirements of your projects and create your tailor-made team. By doing so we do not only ensure the necessary technical knowledge of individual team members, but we take comprehensive measures to maintain an efficient nearshore operating model fostering the most effective development results.
As a result, our partners can develop their products faster with us, increase the overall know-how level and widen their view with new perspectives.
This team is 100% dedicated to your software projects. To maximise efficiency, synergies and quality of work, developers are not rotated during our nearshoring cooperation but remain bound to your products and services. We allow you to augment your existing in-house team with sophisticated software development work of your "own" dedicated remote team and improve time to market while significantly reducing development costs.
Co-Thinkers
We put emphasis both on technical know-how and soft skills to achieve outstanding results for our Partners:
Right Mindset

Relevant Technical Skills

Effective Communication

Loyalty
Qualification & Team setup
Outstanding software development, consulting and support, embedded in a state-of-the-art engineering culture – all from one hand as an all-inclusive nearshoring service.
Modern Infrastructure
Our fully-managed office infrastructure is designed according to the most recent standards. It fosters both creativity and productivity as necessary ingredients for great software development work.
Advisory & Support
We guide you on proven best-practices and help you with hands-on work to create the optimal organisational and operational setup for a successful nearshoring collaboration.
Partner-like Relationship
InterVenture is not only your nearshore contractor. Instead, we regard ourselves as your strategic partner and permanent advisor.
Needs Analysis & Consulting
Analysis of the requirements of our clients and consulting regarding the optimal nearshoring strategy bridging distance actively and securing seamless software delivery.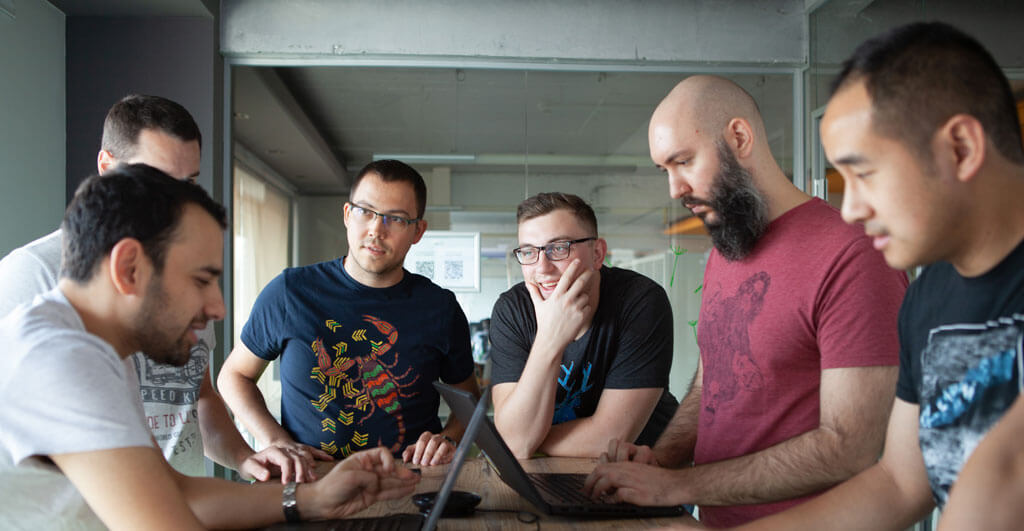 Tech Expertise
We can support you with top-notch development work within the following areas:
– Java, .NET, Python, PHP
– JavaScript, React, Angular, Vue
– Android (Java, Kotlin)
– iOS (Swift, Objective C)
– C/C++
– Data Science, Data Engineering
– Quality Assurance, Quality Engineering
– UX and design