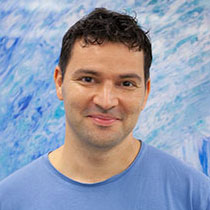 Slaviša Avramović
Techical Team Lead, escriba.de Belgrade
"We've managed to conquer a complex legacy system and learned that transferring domain knowledge to a remote team can be compared to moving from monolith to microservice architecture. The InterVenture team in Belgrade has been part of Escriba since 2015 and we are happy to be part of this challenging engineering story and work on hard technical problems."
Explore the job
opportunities with our
partner companies

Join Our
Engineering
Community
ENGINEERING COMMUNITY
We grow together.
We Jam together.
InterVenture is a community of engineers that ensures professional and personal development, convenient lifestyle and an international career at home for each individual. Our community is all about growth. Growth of our partners, our teams and our individual contributors.
We are growing together. We jam together. Our infrastructure allows engineers who work in various companies, solving plenty of problems by using different technologies, to exchange knowledge and experiences in an enjoyable environment.

Jam Sessions
In music, jam session is characterized as an informal musical event, process or activity where musicians improvise to create music much for the sake of musicians satisfaction.
Our jam sessions started in 2015 with the idea to enrich our everyday lives by jamming about tech topics, about our special interests, hobbies, and other. Check out some of our videos from the previous jam sessions.

Education
Our employees attend some of the best tech conferences in the world, have access to e-learning tools and access to online books and reading materials.

Open Source
We love open source. Open source is a backbone of any community as it is platform for creation of amazing knowledge libraries. Our engineers solve great amount of problems every day that someone else might be facing at the moment.
Our teams enjoy sharing those solutions and processes that led us to solutions so that others can be more efficient in their work. It is a pay-it-forward model!

CSR
We aim to also help our broader community grow.
That is why our CSR program is focused on providing growth conditions to people who were not born under the lucky star (donations to underprivileged, software education in schools, etc).
Meetups & Jam Sessions
Extending Spinnaker with GitOps by Joel Vasallo, Redbox & InterVenture
Hackathons
InterVenture Hackathon @ our NTP office, December 2018
InterVenture WebinarsSeasons 1 & 2
Graph databases, by Ivan Nikolić, Software Engineer, Belgrade 2020
Conferences – Ricardo & InterVenture @ HeapCon 2018
Modular Synths and Microservices, by Jeremy Seitz, CTO of ricardo.ch, Belgrade 2018
ENGINEERING COMMUNITY
YOU DON'T JOIN A COMPANY,
YOU BECOME A PART OF A COMMUNITY
Many teams – One community. Many cultures – One that ties them together. We can do, learn, and have more fun together.
ENGINEERING COMMUNITY
Benefits of joining our community
TM as a trusted advisor & full operational support for each segment of your business life
EDU budget,
International conferences, programming school for kids
Private health insurance,
work-life balance, group sport activities
Community events, team buildings & team activities
Relax and unwind zones, playrooms, gaming corners
Community commodities, benefit cards, business travels
MEET OUR PEOPLE TEAM
HOW TO JOIN US
If you are a talented software enthusiast with a positive attitude
and a strong sense of responsibility, we would like to meet you.
BELGARDE OFFICES
JOB OPPENINGS