General
Serbia wants to become the Silicon Valley of the Western Balkans
Posted by
InterVenture
on June 18, 2019
Touted as the Silicon Valley of the Balkans, it's hard to believe that Serbia was, not all that long ago, completely devastated by conflict and the political and economic upheaval that came as a consequence. IT, too, was also way behind the rest of Europe. However, in an effort to pull itself out of these issues, and alleviate economic stagnation, the country enthusiastically embraced technology, with the end result that it is now at the forefront of IT development and is currently tipped to become the world's next hotspot in terms of tech talent.
Economic Growth
Serbia possesses an IT sector that was valued just last year at over 2 billion euros. Technology exports, in particular, were valued at 1 billion euros, and the country is also at number 5 in worldwide developer rankings. IT is the fastest growing area of the economy, in fact, and the Serbian government has been instrumental in creating this turnaround, ploughing money into businesses and also into education.
Business Incentives
It has established a Ministerial Council for IT, Innovation and Entrepreneurship to foster and encourage development, as one important example. Through this, it has invested roughly 70 million euros into the tech infrastructure required to nurture start-ups, which has included the offer of free workspace for emerging firms, amongst other things. These, along with low wages and incentives for outside investors of, most recently, up to 10,000 euros per employee, as well as grants and tariff-free imports of equipment, have proven very attractive to firms, most notably Microsoft, who set up the Microsoft Development Center Serbia in 2005.
Educating and Ensuring a Steady Stream of Talent
In addition, Serbia has developed a huge pool of talent via its improvement of the IT curriculum in primary and secondary schools, as well as its increase in investment in university computer science programs. Software programming courses in primary schools are mandatory, meaning that all young people are given a good grounding in this with the option of continuing in high school. The government has also increased the number of university places available in tech-related subjects, to tie in with its aim to increase the number of skilled IT workers from 1,500 to 5,000 per year. In 2017, 13% of the students in Serbia pursued studies in the field of mathematics, IT and computing. It was less than 10% in the same field in the UK.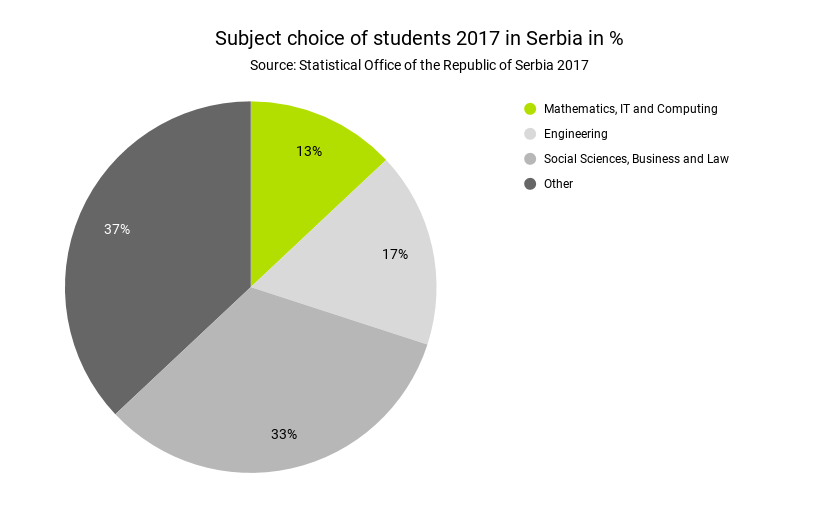 Benefits at Home and Abroad
Needless to say, Serbia is a tech mecca for businesses. Organisations who relocate there receive incentives and enjoy relatively low costs compared with the rest of Europe. For those who remain in their own countries, offshoring represents an attractive option, allowing organisations to tap into the wealth of talent and tech available in Serbia without having to uproot. The cheapest offshore prices for software development, according to 2019 Global Software Outsourcing Rates, are in this small country, whilst cultural affinities mean that offshoring here is easier than in, say, Asia, where the lowest programmer salaries are around the same in any case.
The Next Silicon Valley
With government support and investment, education strategies in place, and plenty of incentives for young talent as well as investors, it's no wonder that the tech industry in Serbia is booming. For those young people entering the IT sector, there's the allure of salaries that are three times higher than its national average, plus working environments that include 'chill out' zones and other attractive benefits. For employers, there are the low costs, incentives, and chance to capitalise on this talent pool – this is the country which gave us Tesla, after all, and its tradition of rigorous scientific and mathematical education stand it in good stead.
Tech is now one of Serbia's top three exports, along with automobiles and agriculture. Certainly, this is something that businesses not based in Serbia should be looking to capitalise on.