General
Looking for IT outsourcing services? We have something far better
Posted by InterVenture on September 8, 2020
IT outsourcing services have been around for quite some time. Many industry experts believe modern IT outsourcing began in 1989 when Eastman Kodak made a deal with IBM. Being the leading multinational technology company, IBM was trusted by Kodak to build and manage a data center for their needs. This was the first noted IT project of such a scale that included an external provider.
Naturally, a lot has changed in the past 30 years.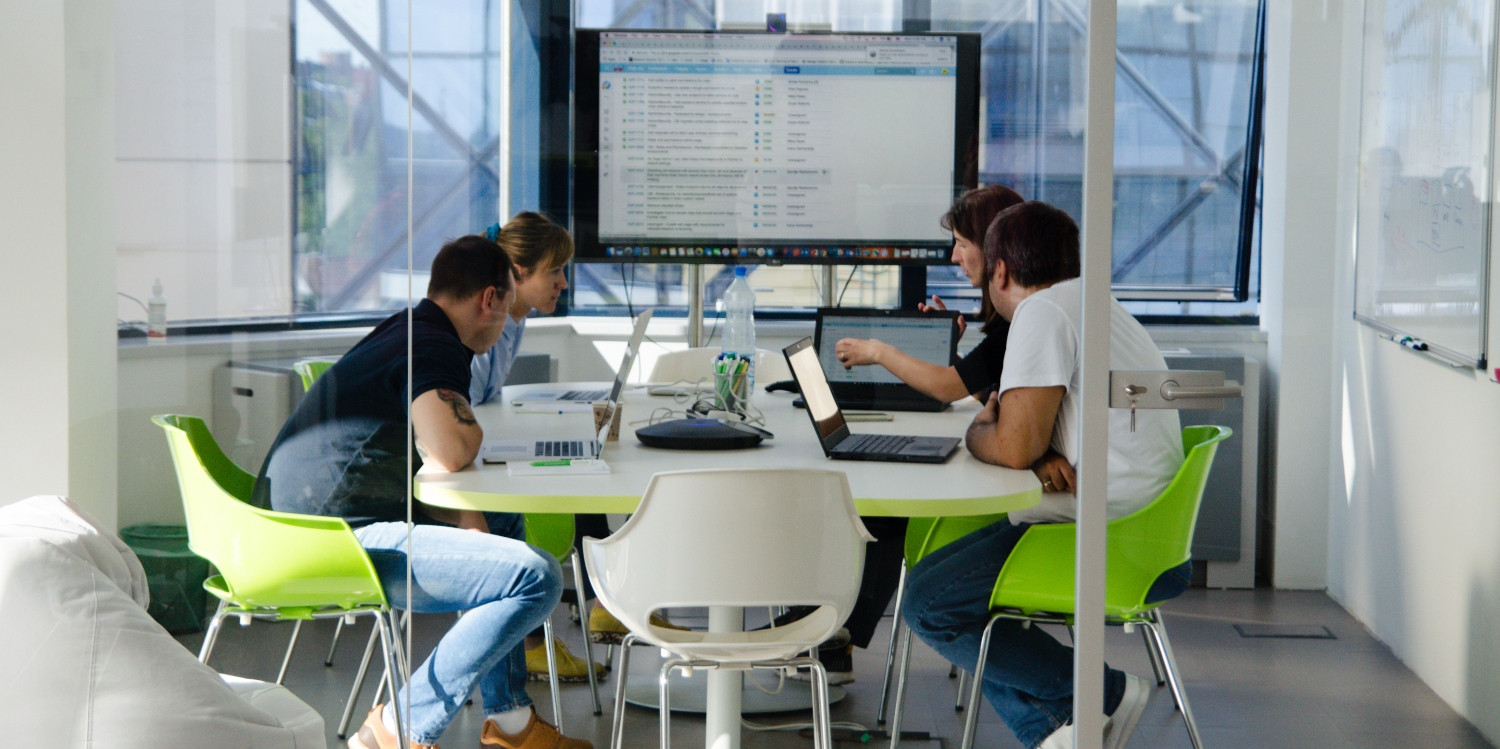 IT outsourcing services have evolved to better suit the business needs of the 21st century. The market has expanded significantly: in 2019, Statista reported that the global market value of outsourced IT services is estimated at a whopping $92,5 billion.
If you're looking for IT outsourcing services, we strongly recommend that you read through this resource before making the final decision.
We at InterVenture collected and organized knowledge from our experienced team experts so that you know exactly what are the best options for your business. In addition, we'll share more about innovative approaches to extending your team.
Within this article, you will find:
A comprehensive checklist for choosing the right IT outsourcing services designed specifically for C-level executives, managers, and procurement professionals
An explanation of the costs of IT outsourcing services and flaws of the traditional outsourcing model
Innovative services and partnership models we at InterVenture developed (the concept of 'insourcing', dedicated talent management, The Own Team Model™, and more)
A link to the downloadable comparative nearshoring market study that gives you a detailed analysis of costs, capacities, capabilities, quality of communication, and culture in six different EMEA countries, so that you can make a smart and informed decision choose the optimal external partner
Final thoughts about the importance of extending your team while bearing in mind cultural affinities, team synergy, proximity and time zones
If you happen to have any additional questions that are not covered here, feel free to reach out to us at [email protected].
Hiring vendors for IT outsourcing services requires careful planning from your side
Businesses from various industries reach out to companies that offer IT outsourcing services for one of the two main reasons.
In the first business scenario, the company needs a cost-efficient solution to successfully manage a sudden peak in workload and/or make up for the expertise they lack in-house. In this case, we're talking about outsourcing within the same business vertical, i.e. IT.

In another business scenario, the company needs a trusted IT partner that will provide necessary services so that they can focus on its core business and invest their time and energy where it truly matters.
Whatever your situation is, the idea of outsourcing suggests that hiring the right vendor can boost your business growth.
If you're browsing through IT companies that offer outsourcing services and collecting information about potential vendors, you're probably struggling to make a decision.
To help you fully understand the factors you need to bear in mind when resorting to IT outsourcing, we compiled a comprehensive checklist designed specifically for C-level executives, managers, and procurement professionals: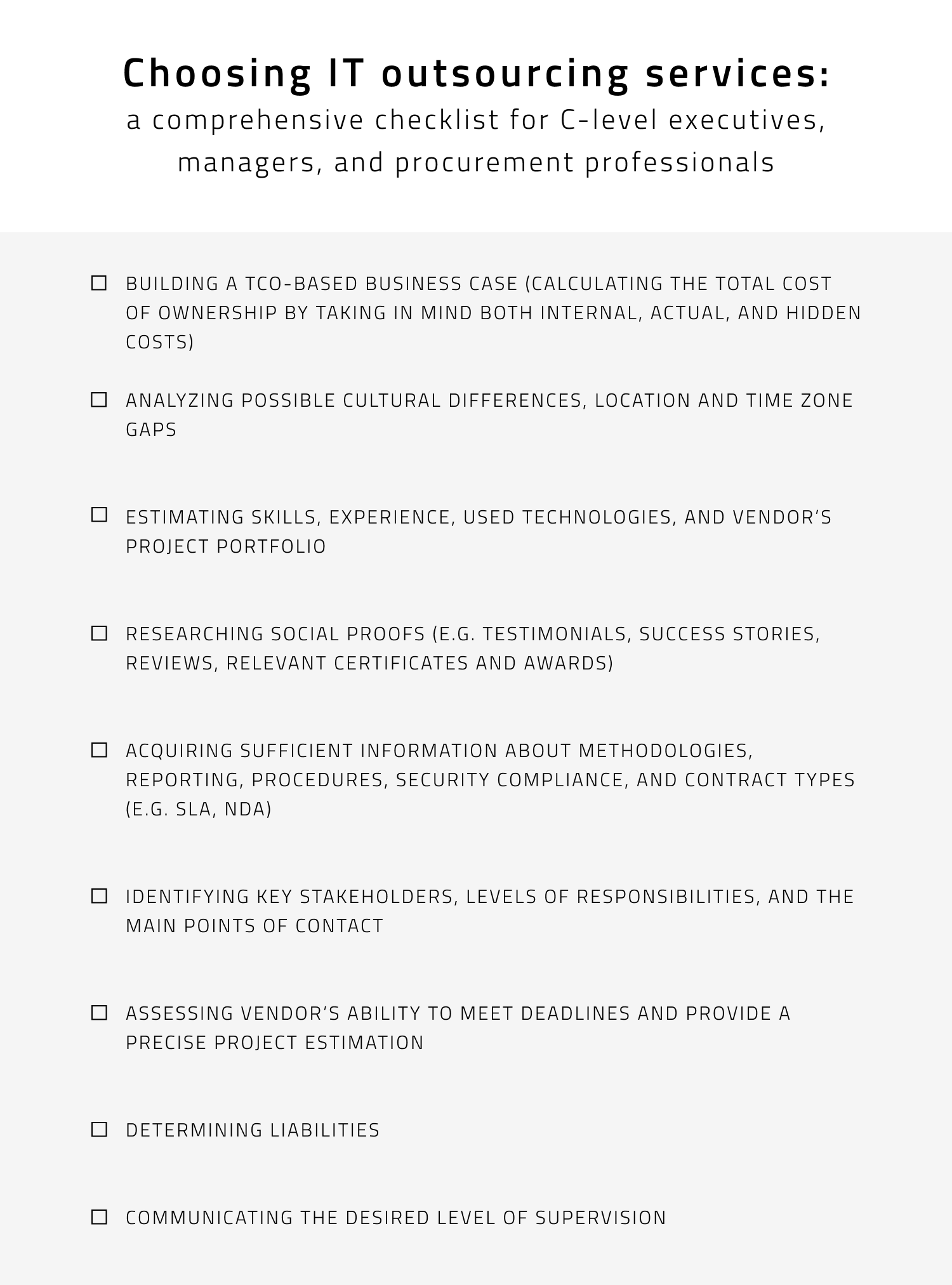 It seems like a lot of work… Because it is. But tackling each item on the checklist is necessary in order to effectively manage risks, prevent turnovers that can cause potential financial losses, protect your company's data, and more.
The good news is, there is a way to make things significantly easier, so bear with us.
The costs of IT outsourcing services
In the world of IT outsourcing, trust is everything. Chances are that you too are looking for a reliable vendor that offers high-quality services that fit into your budget. The vendor should also be responsive and willing to do everything to ensure a hassle-free environment.
After all, you are outsourcing to optimize your costs and solve your current problems – not to create new ones.
It's no secret that companies turn to outsourcing driven by financial motives, i.e. to reduce and control operational costs. However, going cheaper or fixating on costs can lead to bigger problems down the road.
Let's try to deconstruct the main costs of IT outsourcing. Any basic financial analysis implies dividing costs into three main groups:
It's very important to understand that whether or not outsourcing will pay off depends on both the quality of service and the quality of the relationship with the vendor. Still, there are many costs companies tend to oversee (see table below).
| | |
| --- | --- |
| Type of costs | How it can backfire |
| Costs of choosing the vendor | Companies are led by the affordable price of the service instead of the actual quality. Because of the poor results, they are forced to switch vendors. Consequently, they might need to pay penalties for early contract termination, go through a potential downtime, etc. |
| Costs of aligning goals and collaboration styles | If the team that's providing IT outsourcing services is not well-coordinated, it's likely that the development process will go back and forth more than it should. This reflects negatively on the productivity rates and increases time to market. |
| Costs of cultural differences | Diversity is wonderful, but it also implies you need to invest additional time and effort to overcome cultural, communicational, and organizational differences. Companies that prioritize low-cost vendors over cultural proximity can end up losing money in the most unexpected places. |
| Costs of relationship management | Outsourcing is not a once-off task in the management's to-do list. It requires continuous effort from both sides. Depending on your desired level of involvement, you will need to manage projects, approve changes and milestones, mediate conflicts and issues, ensure contracts and payments are in order, etc. The higher the quality of the relationships, the lower the need to invest additional money and time into management. |
Today, we are witnessing a significant shift in IT outsourcing. Executives are getting fed up with the traditional outsourcing model which overpromises on cost savings. In addition, the end results in this model of outsourcing have become repeatedly underwhelming.
Luckily, the market is evolving.
We are noticing a positive trend among companies that hire third parties for IT outsourcing services: they are moving from prioritizing labor arbitrage to prioritizing quality. In such a landscape, they are seeking like-minded trusted business partners that can help them grow.
This brings us to new partnership models that create a win-win situation for all those involved.
How we challenge the idea of traditional IT outsourcing services
The idea of advocating for traditional IT outsourcing revolves around comparing working with external partners versus handling tasks in-house, mainly through the financial lenses.
For instance, the usual advantages of outsourcing include lower operational costs, quick access to needed expertise, and faster time to market. For in-house, it's control over quality, better communication, and shorter turnaround time.
Now imagine you can have the best of both worlds. Or should we say, the best of all worlds?
At InterVenture, we developed partnership models that have proven to be extremely successful. And don't worry: the way we work still allows you to optimize your costs and reap many additional benefits.
Remember the checklist we provided? Scroll back up to it and come back if you'd like. The way InterVenture works eliminates the need for you to go through all these important action points alone. Because the core value of our business is growing together, we stay fully committed in order to establish and preserve your trust from day one.
What does this mean in practice?
Think of InterVenture as your partner that wants to see you thrive. You tell us what you're looking for (e.g. project specification, whether you need to extend your own team (team/staff augmentation) for a long-term product developmentor entrust a project to a team that can help you out on a temporary basis, additional details), we find the perfect people for you, and finally – we set everything up for success.
Not only does this process save you time and money, but it also gives you exclusive access to an incredible talent pool. With InterVenture, you can test a new engineering market and remote team opportunity with full talent management support.
Let's say it together – partners, not vendors
What are the keys to successful collaborations that go beyond the company walls?
We can all agree that experienced software engineers are an irreplaceable piece of the puzzle, but you will also need:
A carefully assembled team of A-players
Shared cultural affinities
Mutual understanding and respect
Streamlined collaboration (i.e. people have to be able to collaborate closely in real-time even when team members are not physically close)
The right diversity that helps you push new ideas to the fore and stay competitive
Great team synergy and a shared passion for the project
There has to be a one-team spirit. CTO professional Isabel Steiner, one of InterVenture's dear clients, has explained what this truly means:
In a well working environment, the agency team or freelancers blend in so well that you keep forgetting who is an 'external' collaborator. In contrast, dysfunctional teams, in-house or distributed, can be easily spotted by the number of complaints you get about skills, mindset or behavior.
This is why we are firm believers in nearshoring. Nearshoring is great especially if you opt for extending your core team (we like to call this 'insourcing') through The Own Team Model™. Working in the same time zone makes things a lot easier and ensures better productivity rates.
We know how important it is for you to have all the necessary information in order to make a decision. Find out what would be the best country for nearshoring for your specific case: download the comparative nearshoring market study for a detailed analysis of costs, capacities, capabilities, quality of communication, and culture in six different EMEA countries.
IT outsourcing services: final thoughts
Whether you have unexpected and immediate production peaks or you're looking to build an all-star software engineering remote team – we're here for you.
InterVenture's management team has a rich blend of experience in digital spaces in Germany, Switzerland, the UK and the US. Company headquarters are in Zurich while our main engineering talent hub is in Belgrade (Serbia). In case you didn't know, Belgrade is our vibrant nearshoring center nested just a short flight away from all major European centers; a home of truly exquisite engineering minds.
We wholeheartedly think it's time to embrace the new way of hiring for IT outsourcing services and leave the dusty old notion of outsourcing where it belongs – in the past.
It is about meaningful partnerships; not transactional deals.
It is about setting new bars for quality and growing together; not labor arbitrage.
Contact InterVenture today and join dozens of companies that are reshaping the industry and growing together with their talented remote teams. We can't wait to hear from you.