SERVICES
OUR MANAGED FREELANCING SERVICE
Our Managed Freelancing is a service designed to address your temporary engineering workload needs, project work, unexpected peaks in work, or need for specific expertise, that do not require you to hire permanent team members. In a short time span we are able to put you in touch with trusted freelance teams specializing in technology of your choice to help you deliver projects.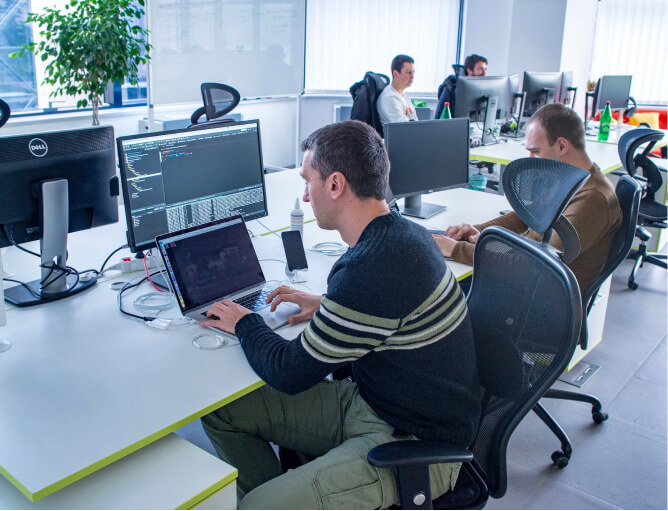 MANAGED FREELANCING SERVICE
How does it work?
Utilizing our deep connection with the Serbian engineering network, we are accessing a community of freelancers and freelance software engineering teams, test their quality of work and certify them with our InterVenture stamp of approval. We are able to quickly find the right fit for you, taking away the hassle and time you would need to invest in screening and sourcing over freelance platforms.
To mitigate the freelance management risk, and reduce communication friction we introduce an InterVenture SPOC who helps the teams set and navigate through goals in order to ensure smooth project delivery.
Is the Managed Freelancing the right type of service for you?
Here's a simple checklist to make sure MF is the right type of service for you. If you check an item on the list, you should definitely get in touch with our team.
MANAGED FREELANCING SERVICE
WHAT'S NEXT
Tell us what you're looking for
Call or email us to book a non-binding consultation so we can understand the finer details of your specific project needs. Whether it's an individual freelancer or a full team you're after, InterVenture can help.
Finding you the perfect match
We will keep you posted on the progress of our search. If we don't already have someone in our pool of freelancing teams or individual freelancers to match your criteria, finding a good match typically takes 2 weeks on average.
Introducing you to your new freelancers
Once you review and agree on the recommendation we made, a professional introduction will take place online or in-person to ensure a smooth start and to kick off your project.
TECHNOLOGIES
We speak your language
Java

.NET

PHP

Node JS

JavaScript

React

Angular

Vue

Flutter

Android Java/Kotlin

iOS Swift/Objective C

C++

Data Science

Python

Google Cloud Platform

Azure

Docker

Amazon Web Service
MANAGED FREELANCING SERVICE
Key benefits of using the Managed Freelancing Service
Get a quick access to expertise in a narrow field or technology.
Handle unexpected and immediate workload peaks or need for specific expertise.
Reduce the hassle of managing multiple individual freelancers.
Make flexible arrangements and reduce stress levels in your core team.
WORK WITH US
Get in touch with us and let's build your
new engineering center.